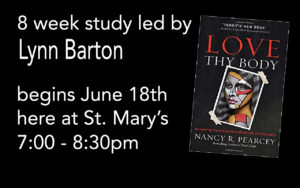 When people identify with their desires rather than God's Word and his design of their bodies, they experience great pain and inner conflict, which they often blame on society for not accepting them. We have accepted all kinds of things over the last decades, yet none of it helps, because it doesn't get at the root of the problem.
If you would like to better understand what is happening to us so you can help others, please join me this summer as we read Nancy Pearcey's Love Thy Body and meet weekly to discuss. Nancy's approach is life and body affirming since it is deeply grounded in the authority of God's Word that tells us he created the world and called it good. Hers is a positive of message of understanding, hope, and compassion: rescue, not condemnation.
It will be important to read the chapter prior to each meeting, since I hope to spend most of our time in discussion. The book is written at a tenth grade level, so it is one of her easier books to comprehend (though the ideas themselves require some thinking through).
Apologetics (defending/explaining our faith) is not just to help other people know the truth. Apologetics is for us. Apologetics deepens our confidence in God's Word as we see that a biblical world view, like a key in a lock, really does accurately fit reality. Even more, apologetics leads to worship, as we marvel at how beautifully and wisely God has designed his world. Oh, what a wonderful God we have!
The class will meet eight Mondays (

7-8:30

) beginning

June 18

. It will be
open to all adults and older teens, say, fifteen and up. Sign up below, or at the book table at church, where you can also pick up a book for $15. (Don't worry if you have to miss some meetings. Come when you can.)
First assignment: read the introduction prior to our first meeting. I look forward to growing with you. – Lynn Barton
Sign up Below: