Dear Ladies,
A lot has changed in our culture over the past several years! As we watch this culture shift almost daily, it can be confusing, controversial, and even scary at times. It is important, therefore, to rest firmly on the bedrock of truth: the Word of God. I am excited to walk with you through the first three chapters of Genesis this fall, which, when rightly understood, will teach and inform us on topics such as creation, man and woman and gender identity, marriage, evil and sin, and our hope of heaven. These issues are of immense importance to Christians today, and therefore we must take care that we truly understand what happened "in the beginning" when God created the heavens and the earth. Join me this fall, won't you?
Looking forward to our time together,
Barb
Association of Certified Biblical Counselors

Registration is open from July
9th – Oct. 23rd
Saturday morning there will be a continental style breakfast with additional egg dishes, and lunch will be a gourmet salad buffet with soup.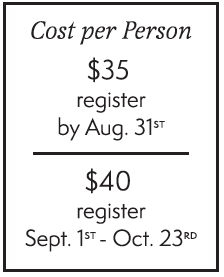 After filling out and sending your registration, click the blue button below to make your payment.